Legal notice | Lawyer Oliver Langner
---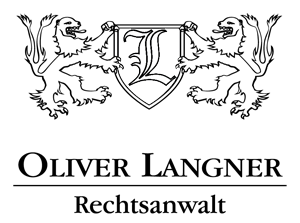 - Attorney at Law -
Oliver Langner
Berliner Allee 57
40212 Düsseldorf
Tel.: +49[0]211-6916879011
Fax: +49[0]211-6916879019
E-Mail: Langner@juraco.de
Internet: www.Juraco.de

The following German fee schedules and codes of practice apply:

Attorneys at Law:
- BRAO – Federal Code of Practice for Attorneys
- BORA Code of Practice for Attorneys
- Fachanwaltsordnung – Code of Practice for Specialised Lawyers
- BRAGO - Federal Fee Schedule for Lawyers
- RVG – German Legal Profession (Remuneration) Act including Remuneration Order
- (CCBE) Code of Conduct for European Lawyers II.

Links to our local professional associations:
III. Rechtsanwaltskammer (Bar Association) Düsseldorf
Körperschaft des öffentlichen Rechts
Freiligrathstraße 25
40479 Düsseldorf IV.
Tel.: + 49[0]211-495020
Fax: + 49[0]211-4950228

Mr Oliver Langner, Attorney at Law, has been admitted to the bar as an attorney under the law of the Federal Republic of Germany and is a member of the Rechtsanwaltskammer Düsseldorf.

Professional liability insurance of Oliver Langner, Attorney at Law
Provinzial Rheinland Versicherung AG, Provinzialplatz 1, 40591 Düsseldorf

Geographical scope: the entire EU territory and the states party to the Convention on the European Economic Area.